If you have a case that needs to be worked, but haven't assigned the investigator yet, you can easily kill two birds in one stone by assigning the investigator directly through the calendar section of Trackops.  
Click the Calendar tab from the top navigation, and then double click the date that you wish to create schedule activity for.  Alternatively, you can click the New Event button, located in the top right of the calendar.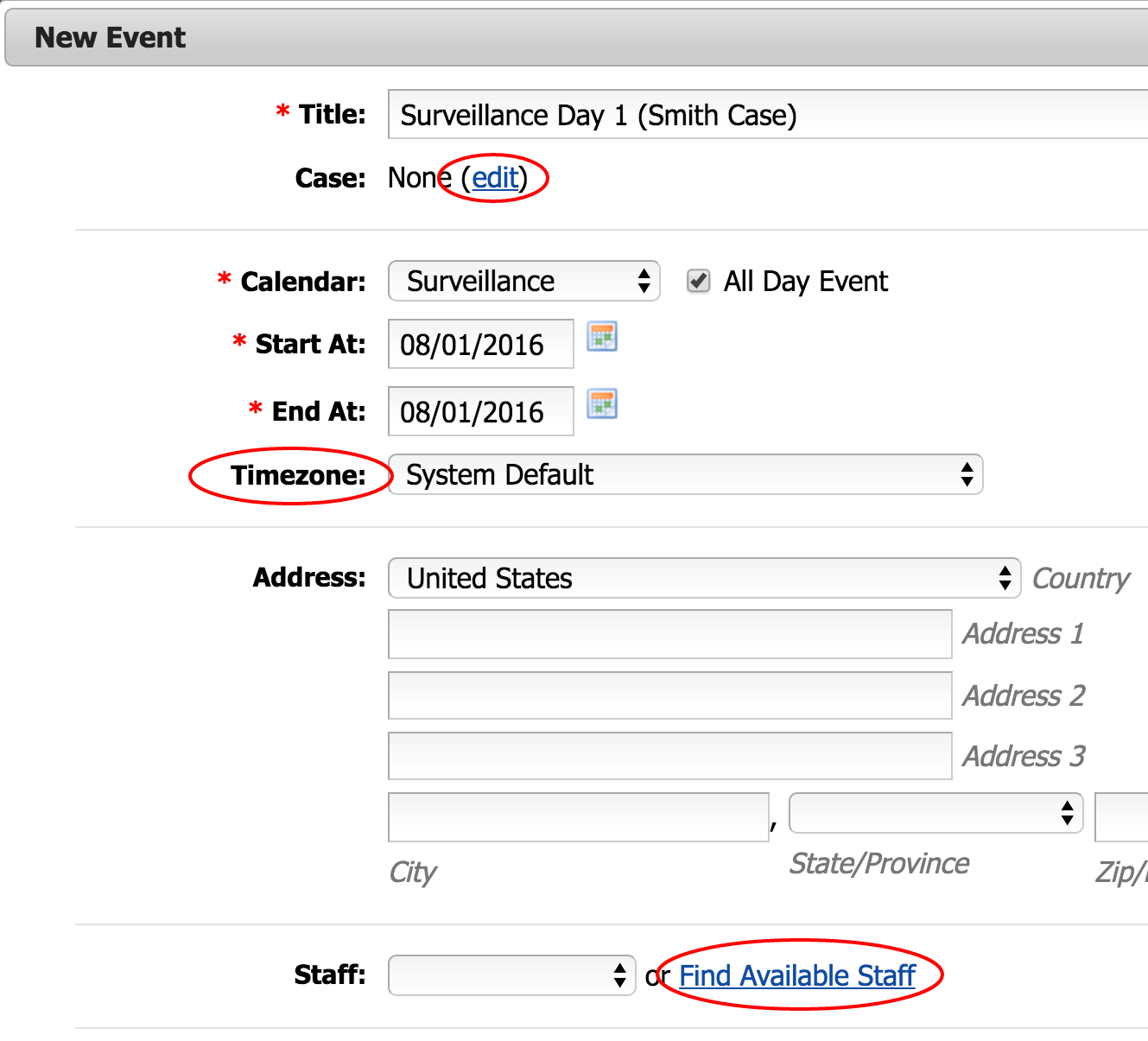 Title: The name of the event, as you want it to appear on the agenda.
Case: The case number to associate this event with.  You can automatically populate the case number when creating new events by starting from the case, and clicking New > Event from the case menu. If you need to select a case, click the Edit button next to the case selection, and search for the case in question.  Once you've found the case, click the Set button next to the correct case to populate it into the new event.  See below for an example:  




Service: Optionally assign a case service to this event.  By specifying the service, you'll be able to better isolate certain types of events (e.g. surveillance) when filtering from lists or calendars.
Timezone: If the event is to occur in a different timezone (i.e. different from your system timezone), you can optionally choose a new timezone for the event. This is useful when you are communicating event information to investigators outside of your local area.
Address: If you have a desired start location for this activity, enter it here.  Events with locations will appear on the case map, and are easier to track through mobile check-ins.  When an event is connected to a case, any existing case or subject addresses on the case will be automatically available to select and pre-populate the address fields.
Staff: If you already know who you're going to assign the case and/or event to, you can select them from the Staff dropdown.  If you would like help determining who is available to work the case, click the Find Available Staff link.  This will bring up the master schedule, showing their availability.



When choosing an investigator from the schedule, simply click the name of the investigator you wish to schedule.  If the user is not already assigned to the case, you will be prompted to assign them now and optionally send a notification, informing them of the assignment:



After the user has been assigned to the case and event, you will see their name listed next to the staff section of the event form (see below), and you will also be able to schedule a reminder so they are notified before the event actually starts.


That's all there is to it! The event has been scheduled, and your investigator has been assigned and notified of the assignment.