Using the Trackops case mapping functionality, you can easily identify important case locations, and cross reference them with nearby investigators. To properly use the case mapping functionality, be sure that you are using Address style custom fields, in either the case, case subjects, or both. Trackops uses these special "address" fields to pinpoint locations on the map.
Note: If you are interested in capturing more subject addresses on your cases, you can easily add address fields to your intake forms by customizing your subject types.
To view a case map, navigate to a case and click the Map button in the upper right. A map of all the case's addresses will appear, along with any active investigators and/or events that appear within the view port. You can use the +/- buttons in the upper left corner of the map (or your mouse's scroll wheel) to zoom in or out, which will increase or decrease the view port size. In addition, you can click and drag the map in any direction to move the view port, and find new investigators.
Case Map Legend
| | |
| --- | --- |
| Icon | Description |
| | Case and subject addresses appear with red pins. |
| | Assigned investigators appear with green pins. |
| | Unassigned investigators appear with blue pins. |
| | Nearby events/tasks for this case appear with yellow pins. |
| | Nearby events/tasks for other cases appear with gray pins. |
Each address and investigator alike will also appear on a side bar, making it easy to see which pin is which. Investigators are ordered by their investigator recommendation score, which is derived from common scheduling criteria, including scheduled hours, expensed hours, licensure, and work preferences. Using the Schedule Date in the investigator block the system will be able to check for scheduling conflicts on the given date, and accumulated work hours and utilization for the corresponding week.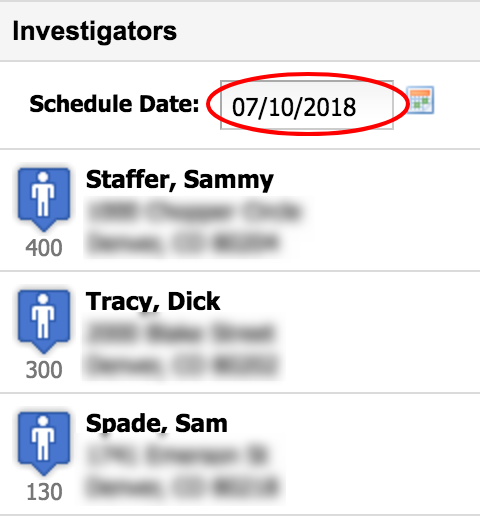 Click the name on the side bar, or the pin on the map to generate a tool tip with more information about an investigator, or to perform an action. The tool tip also includes a break down of their case compatibility, as well as their distance (in miles or kilometres) and travel time (in hours) to the map locations.
Note: The system defaults all distance calculation in miles. You can adjust your General Global Settings to configure your system to calculate distance in either miles or kilometers.
Available Actions
Assign to case - Allows you to assign the investigator to the case. Once assigned, the investigator will appear with a green pin.
Create event - Allows you to create an event (i.e. schedule surveillance) for this investigator on the case. If the user is not already assigned to the case, the system will prompt you to do so before the event is created (Premium plan only).
View agenda - See a list of recent and upcoming events for a particular investigator. If you regularly assign investigators to events, this will be useful in determining if the investigator is free to work an upcoming assignment (Premium plan only).